US News
Christian school guidance counselors placed on leave
LGBT advocates call for action against 'Christian ideology;' teachers' union slams 'Christian paradigm' of US history
Three Christian school guidance counselors in Massachusetts have been placed on leave after a school newspaper used anonymous sources to accuse the counselors of engaging in so-called "conversion therapy" and not using the chosen pronouns of trans-identified students.
An attorney for Hector Santos, Delinda Dykes and Tania Cabrera says the Amherst Regional Middle School (ARMS) student-run newspaper used anonymous sources — later cited by other news outlets — that potentially put the Christian counselors' safety at risk by granting anonymity to the article's sources.
Among the allegations: that Santos performed "conversion therapy" before school hours in Amherst schools, Dykes prayed against a so-called LGBT "demon" and "handed out chocolate crucifixes," and that all three failed to refer to students by using their self-declared pronouns, according to attorney Ryan McLane, who is representing the three employees.
So-called "conversion therapy," which is often used by churches and ministries to help counsel people with unwanted same-sex attraction and is known as sexual orientation change efforts therapy, was banned in Massachusetts for minors in 2019.
According to a May 9 post from the Graphic, the student newspaper of Amherst Regional High School, the allegations stem directly from the "religious beliefs" of Santos and Dykes, who, according to an unidentified source, allegedly "frequently expressed their religious views" at school. 
The source, given the name "John" by the Graphic, claims Dykes and Santos invited him to a "private prayer circle" before school hours. According to the report, the source became uncomfortable when Dykes prayed, "In the name of Jesus, we bind that [LGBT] gay demon that wants to confuse our children."
The report also cited Facebook posts shared by Santos, which referred to Adam and Eve, "gay conversion" and subsequent "freedom in Jesus," and Santos allegedly "misgendering" a student.
During a public comment period at an April 25 school committee meeting, one member of the community, Gazit Chaya Nkosi, explicitly referenced "Christian ideology" as a threat to LGBT students.
Nkosi claimed she was asked by another anonymous person to follow up about concerns "about staff at the middle school who were talking with queer students about praying to make sure that they're not queer anymore, using the Bible, using Christian ideology to discourage them from being authentic."
Claire Coco and Ruth Killough-Hill, representatives from Amherst Pelham Education Association (APEA), the local teachers union, also spoke at the meeting, read from an APEA statement urged officials to "stop" any anti-LGBT comments at the school and to change the district's mission statement to reflect its "commitment to multiculturalism."
On its website, the APEA has a stated goal of seeking to move beyond a "Christian paradigm of the U.S.'s history and present day" and has previously stated its opposition to any actions that threaten a "safe, supportive and [LGBT]inclusive PreK-12 education and schooling experience."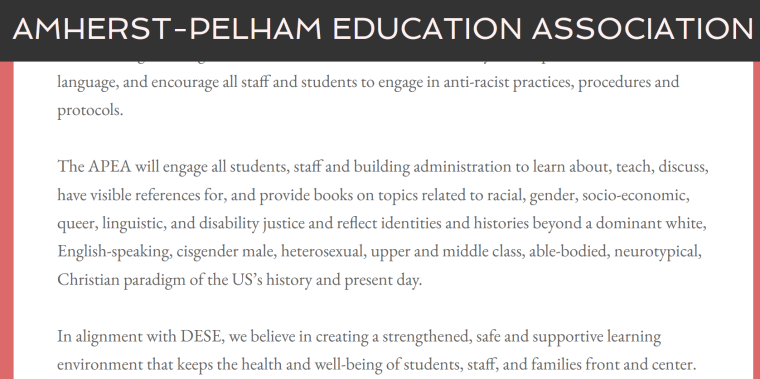 The union has also called the banning of chemical and surgical castration (puberty blockers, cross-sex hormones and body mutilating surgeries) of minors who are confused about their sex and banning of drag performances for underage audiences as "extremely harmful and dangerous attacks on public education."
Religion was repeatedly referenced during the meeting, including in the context of the search for a middle school principal, which one committee member, Peter Demling, said was undermined by "false rumors" about one finalist who was being accused of being anti-LGBT simply "because she belongs to a church."
Demling also accused APEA of making false statements in the past and asking whether there was "any evidence" for such rumors.
In response to the complaints, Superintendent Michael Morris asked for firsthand information or evidence about such allegations, and later added that he has not "received anything related to the public comments that have come in."
Following the allegations and the ensuing media coverage, Santos and Dykes — who are both eighth grade school counselors at ARMS — are now the subject of a Title IX investigation in Amherst, while Tania Cabrera was placed on leave "for safety measures," according to information shared with The Christian Post.
The allegations eventually forced Morris to take a leave of absence as of May 12, citing health concerns. 
On May 11, just one day prior to announcing his leave, Morris — who included his pronouns in his school email signature — called the allegations linked to the ongoing Title IX investigation "serious" and "harmful" to the LGBT community in particular.
"We want to explicitly state to the ARPS community that we are committed to providing a safe, supportive and respectful environment in which every student and faculty member can learn, work and thrive," Morris wrote.
With that email, Morris "sent out an email to the entire school staff, taking the side of the anonymous students prior to any investigation being completed," according to information provided to CP.
In response to the allegations, McLane denied Santos, Dykes and Cabrera did anything improper, and described them as "faithful, Bible-believing Christians."
"Hector, Delinda and Tania are devastated that they are being kept from their life's work and from helping the children that they care so much about," he said via email. "None of the accusations are true, besides the fact that they are Christians. It is a testament to their strength to remain silent during an investigation as their good names are being tarnished while they wait for vindication. 
"They are exemplary employees and care deeply about the children that they serve, and we look forward to their names being cleared once this Title IX investigation is complete."
CP reached out to APEA for comment on this story but did not receive a response as of Monday afternoon. 
Since the controversy began, members of the community have sent angry emails to some of the teachers, some of which were shared with CP.
One email sent May 10 from alumni and self-described lesbian Eliza Carson to Santos, Morris and others ended with the following message: "TRANS PEOPLE WIN IN THE END. GAY PEOPLE WIN IN THE END. YOU LOSE."
"Your hatred and discrimination is outdated, putrid, and puny. I, a lesbian, feel better now. And I hope your day is a little bit worse! This is a protest!" Carson added.
The anti-Christian sentiment from the LGBT community members and supporters comes less than two months after a trans-identified shooter killed six people — including three children — at a Christian school in Nashville.
Authorities later identified Audrey Elizabeth Hale, 28, who attended the Covenant School several years ago, as the shooter. Police said Hale, at some point, became trans-identified. She was killed by police officers during the attack.
Ian M. Giatti is a reporter for The Christian Post. He can be reached at: [email protected]. 
Free

Religious Freedom Updates

Join thousands of others to get the FREEDOM POST newsletter for free, sent twice a week from The Christian Post.