Christian News
Church George Washington helped oversee honors enslaved builders
A historic church in Virginia that the nation's first President George Washington helped design recently installed a pair of plaques to honor those who built the structure, including those who were enslaved.
Pohick Episcopal Church of Lorton, a congregation that traces its origins back to 1724 and its current building to 1774, installed the two plaques on Tuesday near the doors on the structure's western wall.
The Very Rev. Lynn Ronaldi, rector at Pohick Church, told The Christian Post on Thursday that the congregation wanted "to honor, by name, all who contributed to the construction of our church, and to our ongoing spiritual legacy."
"We had gathered the names of many individuals, through our Vestry Minutes and Fairfax County Courthouse records. We have also long surmised that this church was built in part by enslaved labor as well but we had no evidence," Ronaldi explained.
"I asked Pohick docent Dick Hamly to conduct research to locate those names as well as the names we already had. With the aid of the very helpful Fairfax County staff, Dick and his team located the names of several enslaved persons on site during the construction of Pohick Church. They mostly belonged to the person on whose land the church was constructed."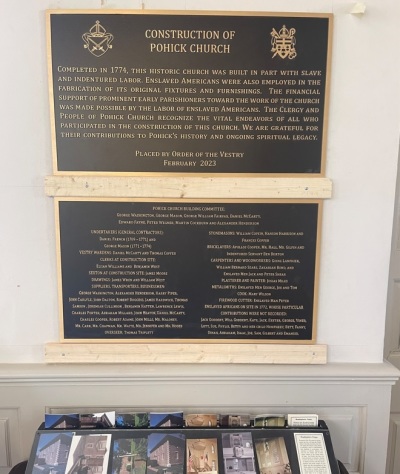 The church installed two plaques for the occasion. One has a paragraph recognizing those who built the church, while the other lists the names that researchers found.
In total, there were 73 individuals named as contributing to the construction of Pohick, with 27 of those named being enslaved. According to Ronaldi, while there might be additional slaves who were involved, those named on the plaque were the only ones recorded in county records.
"I hope that people who see these plaques recognize that Pohick Church is grateful for all who contributed to the construction of this house of worship, from the church leaders to artisans, craftsmen and merchants, and the indentured and enslaved persons as well," said Ronaldi.
"From all the records to which we have access, it appears that it 'took a village' to build Pohick Church, which remains a visible sign of the Christian values of America's founding fathers and mothers who were spiritually formed here."
Known as the "Mother Church of Northern Virginia," Pohick was originally founded in 1724, with its name deriving from its proximity to Pohick Creek.
George Washington served as a vestryman for Pohick for 23 years, and both surveyed and proposed the tract of land where the present-day church stands.
George Mason, a wealthy landowner and friend of Washington's who drafted the influential Virginia Declaration of Rights in May 1776 also served as a vestryman for Pohick.
Free

Religious Freedom Updates

Join thousands of others to get the FREEDOM POST newsletter for free, sent twice a week from The Christian Post.